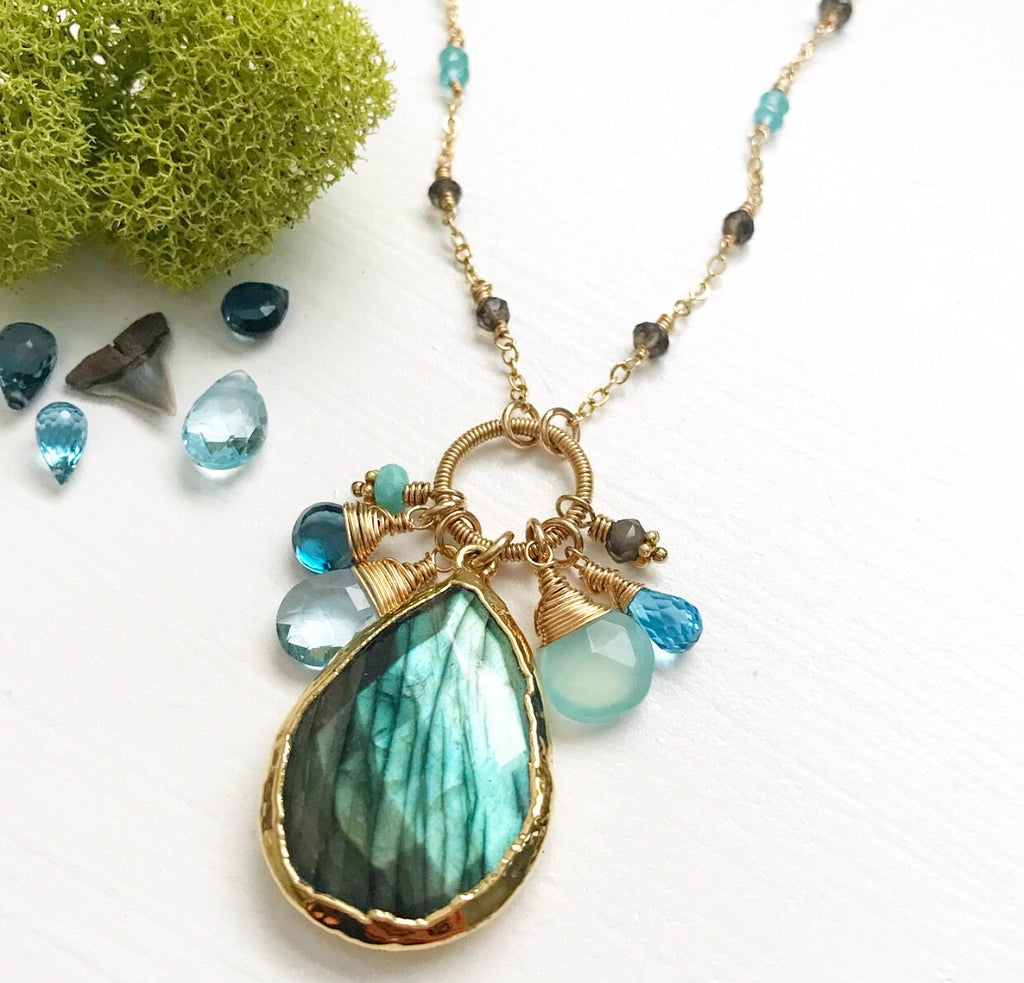 Labradorite, as shown abover, is a beautifully colored gemstone that we frequently incorporate into our jewelry at Elizabeth Sarah Collections. This gemstone is named after where it was found in Labrador, on the Isle of Paul in Newfoundland, Canada. It's believed by the native Inuits that Labradorite exhibits such captivating colors due to the Northern Lights shining down on the shores of Labrador and captured inside these colorful stones. The different hues, from blue to green to grey, that Labradorite gives off when it's viewed at different angles and lighting is due to a diffraction of light in the layers of the stone. Elizabeth gets her inspiration from the expression of colors this stone offers, and utilizes her playful imagination to create unique necklaces. The beauty of this gemstone is that no two are the same, and the possibilities of colors are as endless as they are mesmerizing. In fact, this optical effect is so unique to the stone that it has its own term, called "labradorescence". 
Besides being discovered in Canada, Labradorite is also found in Australia, Madagascar, Mexico, Norway, Russia and the USA. It has been used in jewelry making since the 18th century, but has many other uses as well. Labradorite is used in glass making, road building material and in the manufacturing of ceramics and cement. 
Not only does Labradorite have a beautiful physical appearance, (seriously, it goes with everything in your wardrobe!) but it is also believed to have metaphysical and alternative healing powers, as well. It's thought to "bring light" to the otherwise unknown, and provide its wearer with insight and help find their true path in life. Labradorite is also credited with bringing out the positive side of people and calming an overactive mind. In traditional Hindu belief, Labradorite is associated with the throat chakra which is the center of purification associated with hearing, speech and self-expression, and wearing Labradorite is thought to contribute to expression of truth and honesty. It is also thought to bring out physic abilities, aiding its wearer in recalling experiences from past lives.
What do you love most about your Labradorite jewelry?